You've just found the only place on the web to buy personally inscribed, autographed books by Ed Cook. Lucky you! Actually, lucky me. This is my chance to make a new friend and perhaps sell a book or two.
Here's what's currently available. You can click on the image of the book, the title, or the offer to get the details of the book or offer. You can also use the menu in the left sidebar to move through the site.
I hope you enjoy meeting my books and me.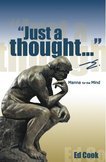 "Just a thought…" -e. : Manna for the Mind  will cause you to think – guaranteed! Ed writes about questions, situations, and issues that we encounter in contemporary culture in the United States and within in church.
The short chapters allow you to read the book in sips rather than gulps. Ed writes from a Christian perspective but don't be too sure that he fits easily into whatever pigeonhole that word evokes for you. Be prepared to think, rethink, and perhaps even revise your thinking on matters that affect us all.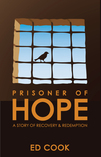 Prisoner of Hope: A Story of Recovery and Redemption recounts Ed's fifteen-month journey from addiction to recovery and from atheism to faith. While this journey occurred in 1976-1977, understanding aspects of various element of the journey didn't come often until years later through reflection on what occurred. Ed tells us not only what happened, but also shares the wisdom garnered from years of experience and reflection.
If you've ever struggled with addictions, faith, or relationships, this book's for you. Oh wait a minute – that's everyone, isn't it?.line
Buy Both. Here's a great offer to get both books and save a buck. Say you've already read one? Then you probably know a friend who would enjoy reading it. Buy these two – the one you haven't read is for you and the one you have read is for giving to a friend. Sounds good to me!