Prisoner of Hope : A Story of Recovery and Redemption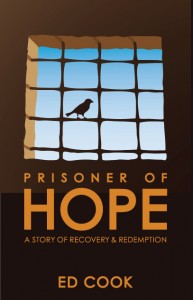 Here's the latest from Ed.
Some forks in the road simply provide a side trip or detour. Others alter the shape and meaning of a person's life. As Ed Cook writes, "My new life began the day I didn't kill myself." Choosing life on April 28, 1976 resulted in Ed's life moving in an entirely new direction. That day began a fifteen-month journey from addiction to recovery and from atheism to faith. What could have been an overly sober story is kept enjoyably readable with infusions of wit and wisdom. Hearing another's story often prompts us to think about our own stories and learn from them. You may find that by reading Prisoner of Hope, you may learn more about yourself than about Ed Cook.
"When a person finds identification with the story of another, that person also finds him- or herself." – from the Prologue.
$14.99 that's the retail price! Get it at Amazon
 or Barnes & Noble if you must (not autographed or inscribed).
But here it's only $12.99 + $5.00 shipping & handling (and Arizona sales tax if sent to an Arizona address).
Also available in KINDLE format here
and as a NOOK Book here.