"Just a thought…" -e. : Manna for the Mind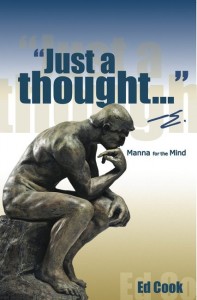 Guaranteed to make you think!
In the age of sound bites and instant gratification, we sometimes forget that elements of our life deserve more consideration than can be expressed in tweets, posts, and Facebook status updates. The chapters are short, the writing is pithy, and the pages will prompt you to develop and contemplate your own questions regarding this brave new world in which we find ourselves at the start of the twenty-first century. Just as in life, the joy is often in the journey rather than the destination. The richness of this reading experience may often be found in the questions contemplated rather than in answers discovered. So read, enjoy, and think a bit. You may not agree with everything presented but remember, no offense is intended because, after all, what's offered is just a thought.
$14.99 that's the retail price! Get it at Amazon
 or Barnes & Noble if you must (not autographed or inscribed).
But here it's only $12.99 + $5.00 shipping & handling (and Arizona sales tax if sent to an Arizona address).
Also available in KINDLE format here
and as a NOOK Book here.